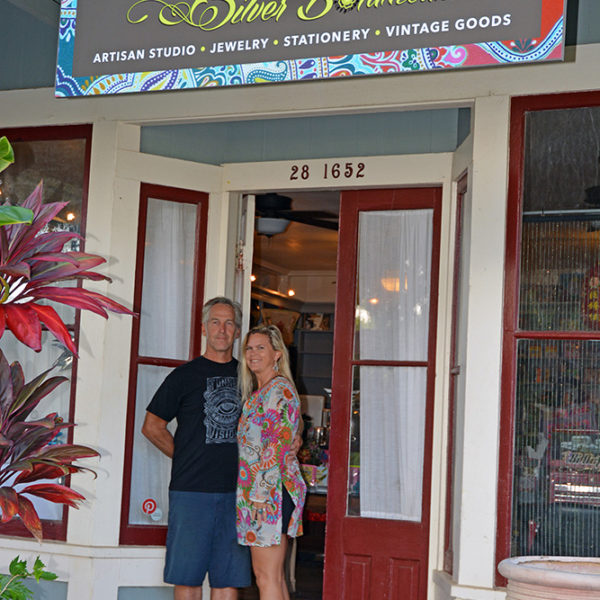 Click into the doorway above to take a virtual tour of the store.
We are excited to announce that my husband Brad & I opened a new Brick & Mortar store SilverBotanica, shop located near Hilo, on the beautiful Hamakua Coast of the Big Island of Hawaii in the quaint town of Honomu. Honomu is the gateway to Akaka Falls State Park. Akaka Falls is a pleasant self-guided walk through lush tropical plants including giant timber bamboo, fruit trees and gorgeous botanical flowers.  The trail is a concrete trail to scenic vista points overlooking the cascading Kahuna Falls and the free-falling 'Akaka Falls , which plunges 442 feet into a stream-eroded gorge.
Our retail store features the Artisan Studio of SilverBotanica Jewelry and Hi Octane Jewelry.  SilverBotanica is a sterling silver jewelry line inspired by tropical Botanical flowers found here in Hawaii and allows the wearer to carry a little bit of paradise at all times.
Hi Octane Jewelry is a sterling silver jewelry line inspired by vintage automobiles and hot rods and comes from our long love of classic cars and hot rods.
Along with our handmade goods our unique store also carries vintage goods, purses, accessories and stationary. The Artisan studio is open daily 12-6pm. And visitors are welcome to tour the studio and learn first hand the process of lost wax casting and silversmithing. Silversmithing & Lost Wax Casting Classes  and Workshops are available by appointment.
You can see another video of the store here.
SilverBotanica – 28-1652 Old Mamalahoa HWY | Honomu, HI 96728 – 949.547.3859
Special Thanks to our neighbor Jeffery North Wilson of 360 True North Photography for creating this awesome virtual tour for us.  You can get one too. Click below and tell him Alicia sent you: