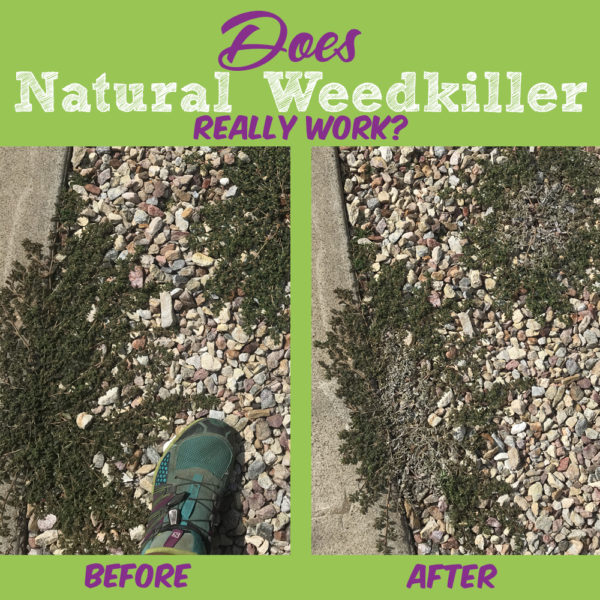 I have been wondering if natural weed killer works.  I really don't want to use any products with glyphosate.  It has been linked to so many bad things happening in the environment.  So I thought let's do a test. Try out the natural stuff see if works.
Recently we relandscaped our front yard area that is in our large circle drive.  We live in Southern California in the coastal city of Oceanside.  I would describe our climate as fairly dry and but coastal and moderate.   When we relandscaped our circle drive. We dug out the existing dead grass and a few other plants that were not really looking very good.  Then we laid down weed cloth. Then over the weed cloth, we unloaded several loads of gravel.  The gravel was also donated by a friend of our landlord so that was wonderful. Then once we got the gravel spread out we went back and added plants.  I put out a notice on Nextdoor asking if anyone had any large Foxtail agaves I could have for free and low and behold one of my neighbors had a bunch.  So we picked them up and profusely Thanked my good-hearted neighbor and proceeded with planting the agaves.  We made holes in the weed cloth and dug out enough soil and then inserted the foxtail agaves. It was pretty easy and cleaned up the space from looking rundown to having some curb appeal.
I don't seem to have a before photo but here is a pic with the weed cloth installed.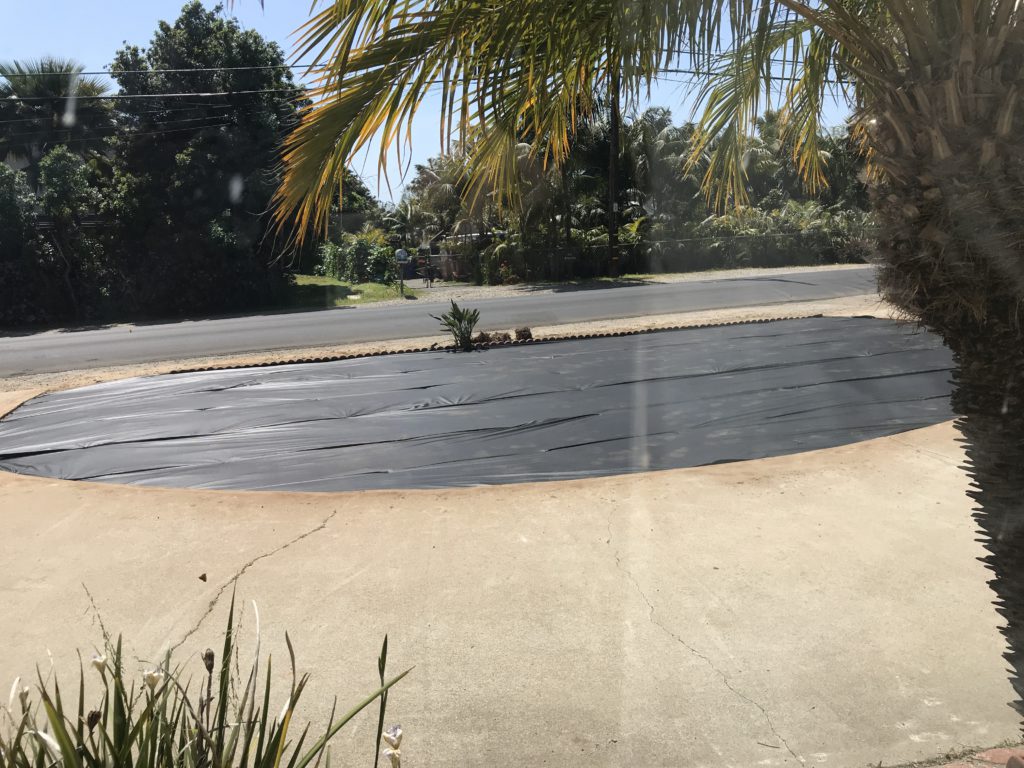 Here is a during the process photo.

Here is a completed photo.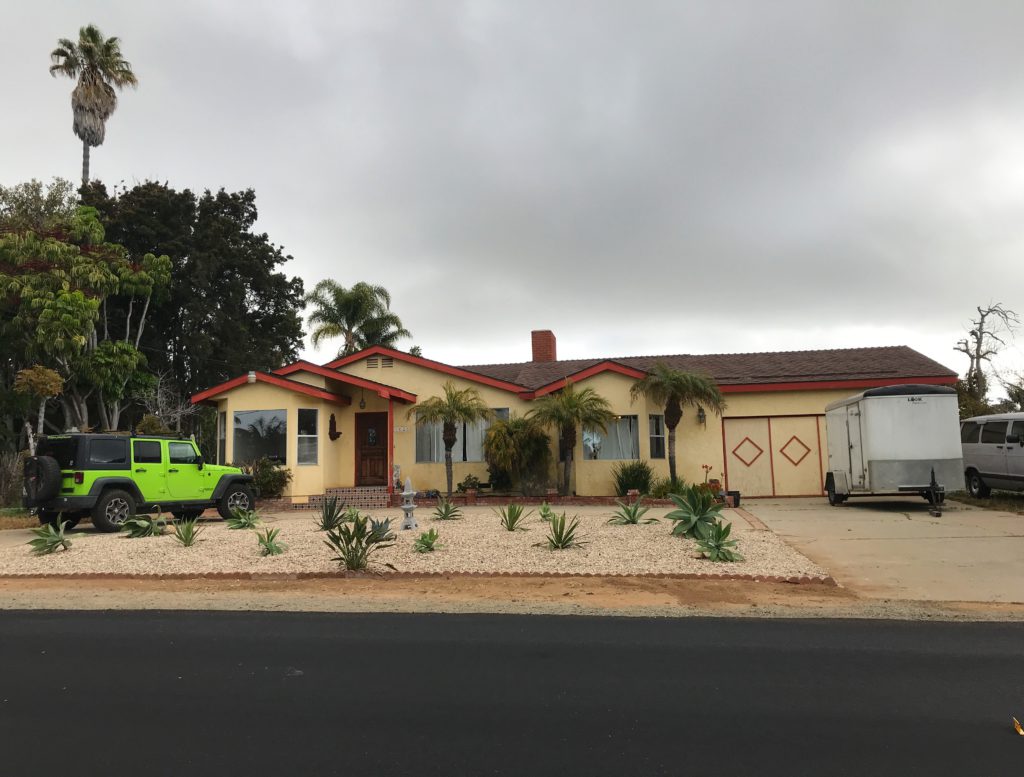 Well after having hauled and heaved 3 truckloads of gravel on this frontyard and then to see weed springing up let's just say I was disappointed in my weed cloth.  So upon the discovery of weeds, we decided we need an easy way to spray them and get rid of them. So hence the need to try the natural weed spray as mentioned above. So here are some photos of the invading weeds.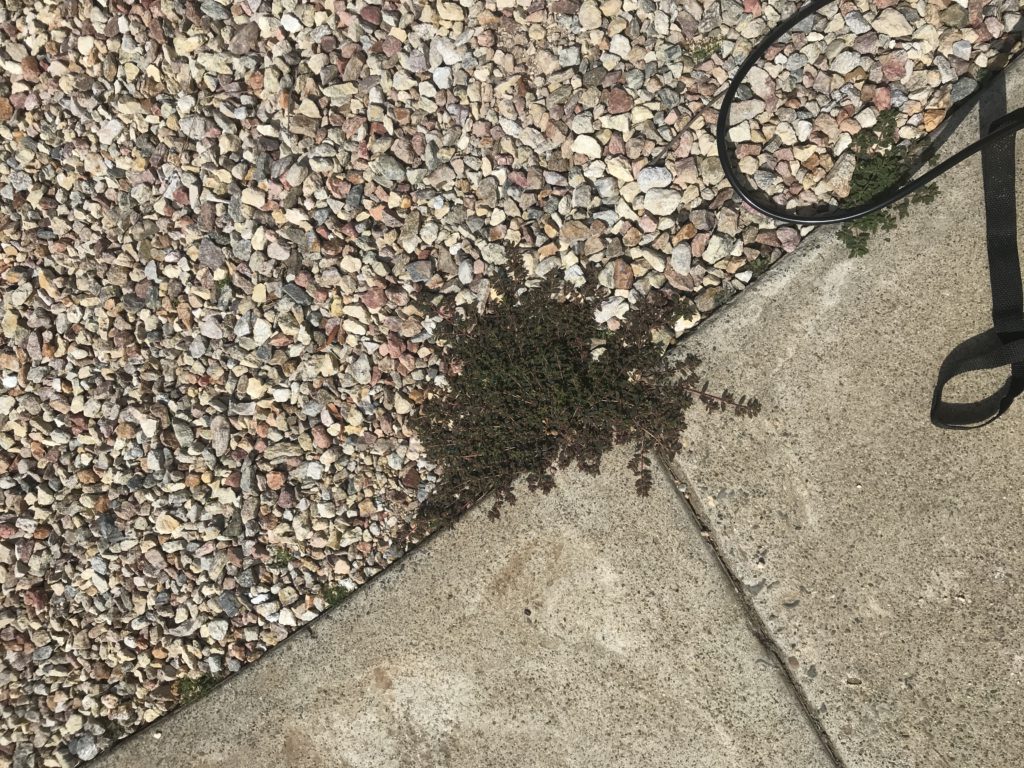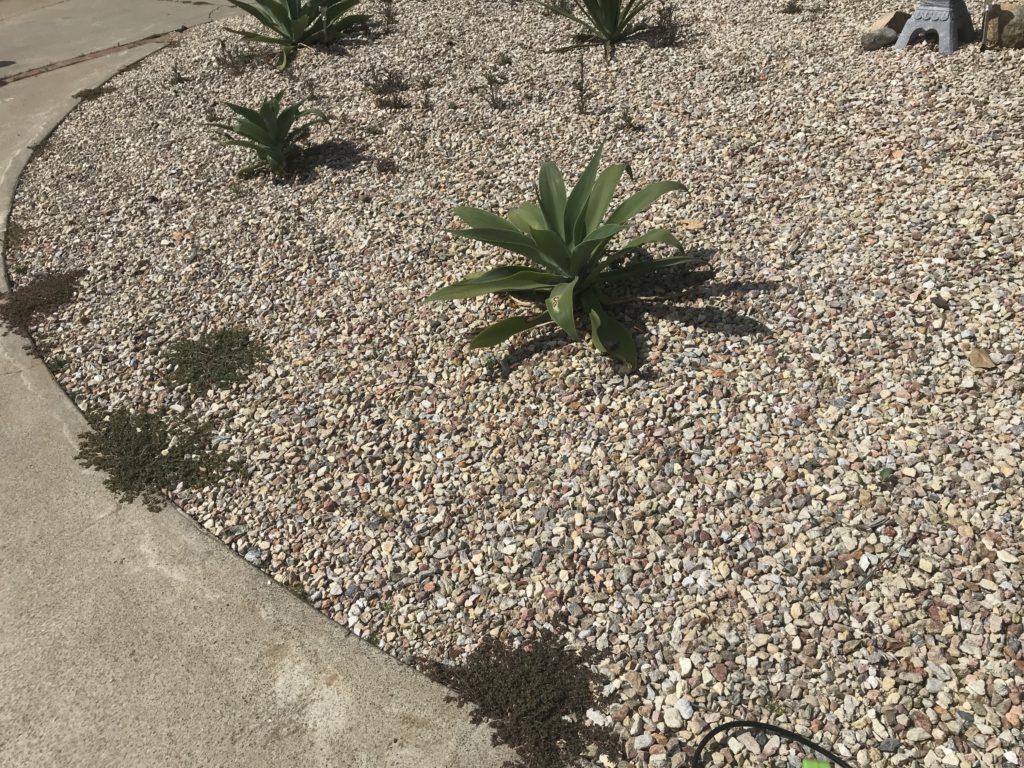 I purchased a sprayer from Harbor Freight. And I went ahead and just wrote the recipe right on to my sprayer.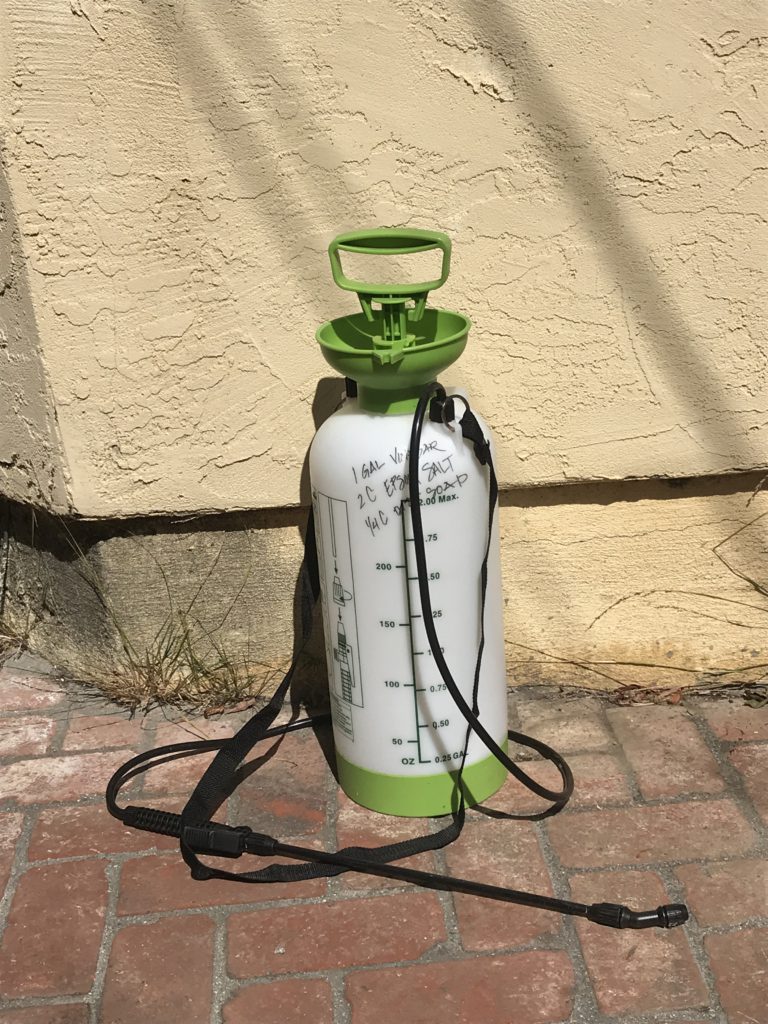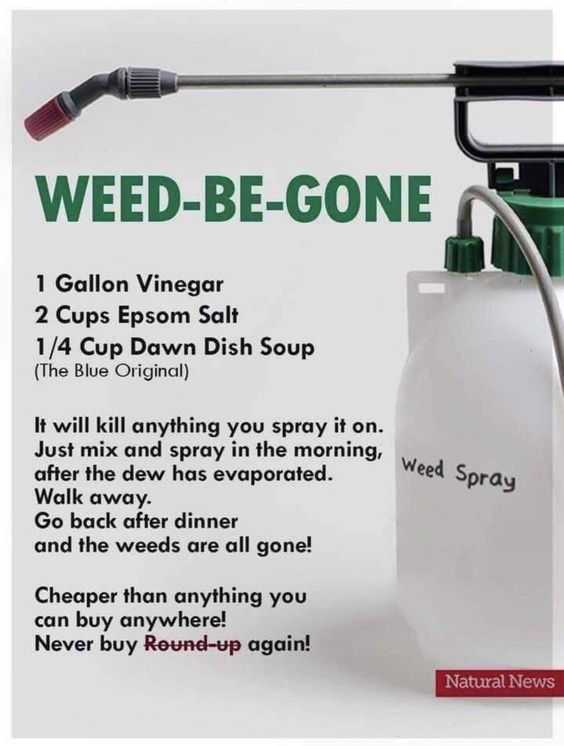 Here is the recipe I used
Although I didn't have Dawn I used Ajax Grapefruit Dishsoap because that's what I had under the sink.  And I also used lavender-scented Epsom Salt, again that's what I had. I bought my 1 gallon bottle of vinegar at Costco.
Here are my results after one day of spraying them.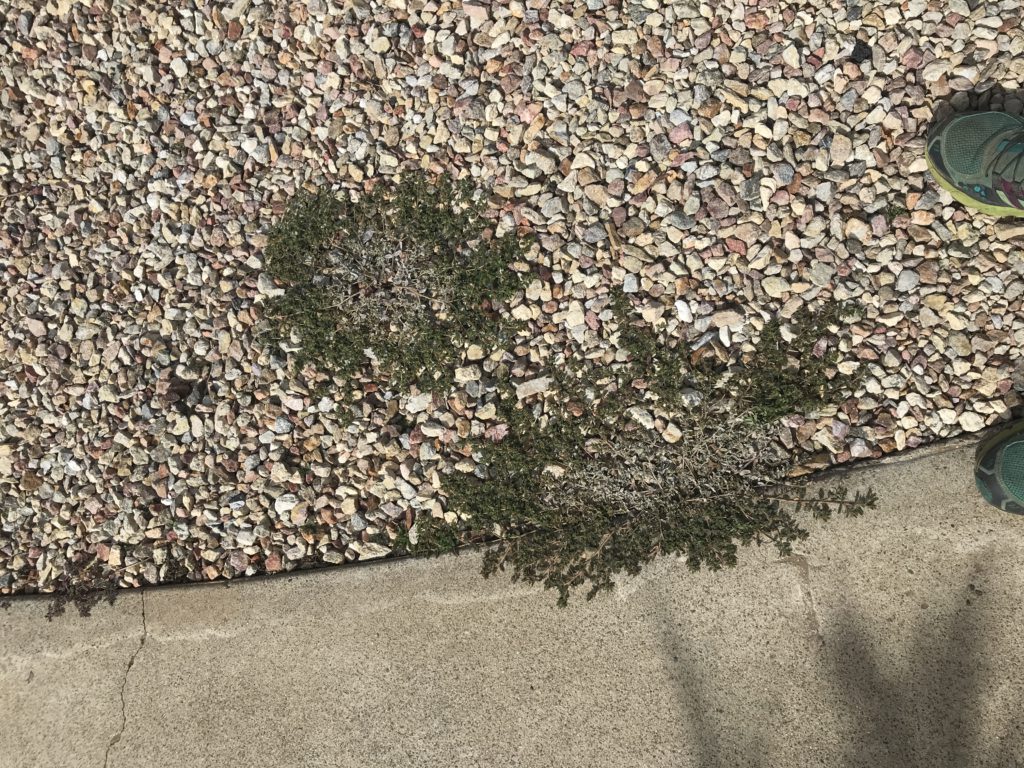 The center root has died just some long tendrils were still green.  They did die off after a few more days.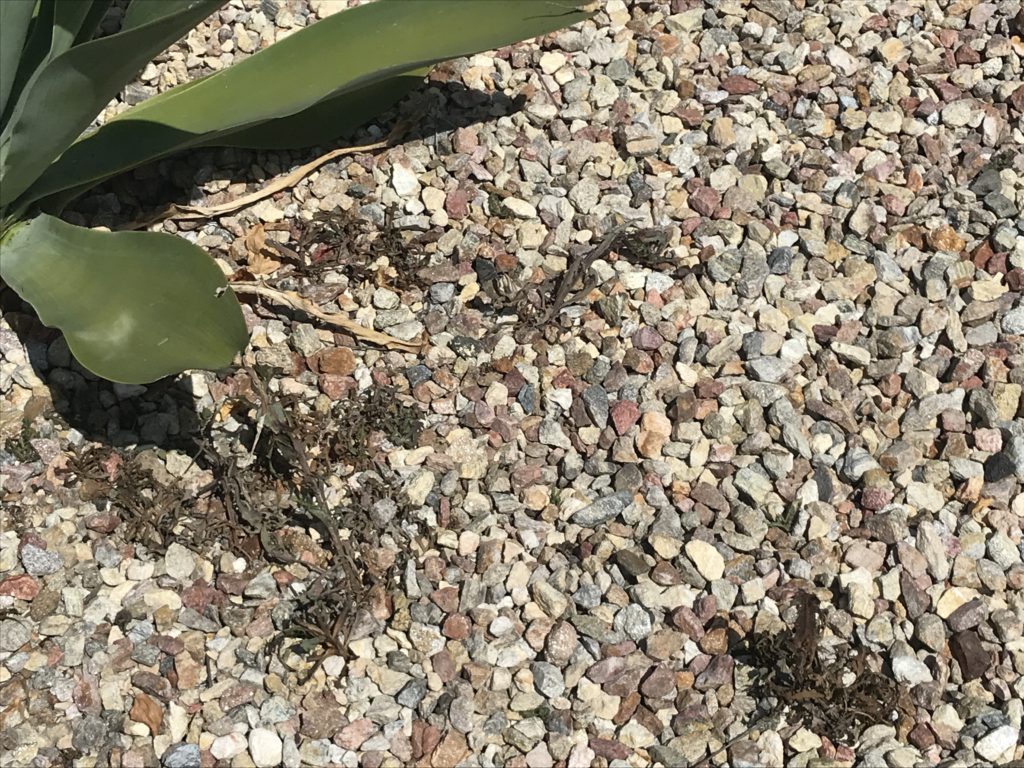 These were dandelions. They to after one day were shriveled and dead. Now I need to go to work pulling all the dead weeds. So in this instance, I have shown here in Southern California in these conditions the Natural Weed Killer works well.  I will use it again.